"sing for everybody - sing for nobody..."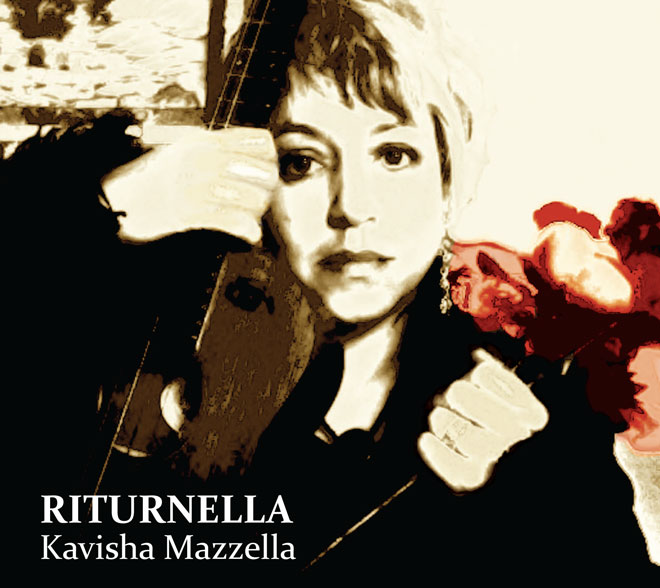 2014 ....PRAISE for RITURNELLA
"It's got veracious, intense and old/new flavours (like a very good coffee) Pino Lamberti Il Globo Italian newspapers Australia.
"Kavisha's new album of centuries-old Italian folk songs is a beautiful thing to hear - a great vehicle for these songs of the heart that have stood the test of time. She plays guitar, mandolin and accordion and the spare production lets her voice naturally shine." Lucky Oceans ,ABC Radio National Weekly Planet.
"Riturnella is a beautiful collection of Italian folk songs from the 1400s onwards. These songs of love and loss from all over Italy are rendered starkly and exquisitely with Kavisha accompanying herself with some very fine guitar and mandolin work." Paul Barr, Readings Books and Music Magazine
"Con Riturnella, Kavisha ha realizzato un omaggio alle sue tradizionali radici con un'opera sensuale e risolutiva, sulle cui fondamenta ha sviluppato la sua personalità di cantante, scrittrice e musicista."Pino Lamberti ,Il Globo.
*See Interview here with Jeff Jenkins from Rythms Magazine
Fammi Restari (Sicily 1600s)
Riturnella (Calabria 1800s)
Ricciulina (Campania 1700s)
ABOUT THE NEW CD
Riturnella is a celebration of the italian folk tradition. it was produced and engineered by Belfast Poet and songwriter Andy White at The Growlery, with Kavisha playing her little spanish nylon string guitar in the classic folk style .the music is authentic,and unnadorned... Kavisha is also playing mandolin, gnnachere (neopolitan castenets) and singing harmonies.
Artist Joe Malinaggi has collaborated with Kavisha to make the CD cover artwork which comes complete with english translations and maps of the regions where the songs originate.The Italian and dialect words of the songs with guitar chords can be found here .(see Riturnella Lyrics)
Kavisha says "These heartbreakingly beautiful songs are little gems in the Italian folk treasury.I have always wanted to do this album.It's the culmination of 30 years of study of these amazing songs."I also want to make a homage to the great Neopolitan folk singer and song collector Roberto Murolo.
The songs range historically from the 1400s-1900s are mostly songs of love, longing and betrayal from the south of Italy .They include the regions of Sicily,Campania Puglia and Calabria with a wonderful funeral lament from Abbruzzi and an antiwar song from Piedmont. Kavisha was first introduced to the italian folk tradition by sicilian- australian mask maker and theatre maker Gianni Margio and consequently learnt these songs from people she met as well as listening to old cassettes and recordings.
Growing up in Australia ,she heard alot of italian music in the family setting but didn't really embrace the music until she was a young adult seeking to understand her heritage .She formed I Papaveri with Antonio Mazzella and Gianni Margio which lead to her meeting an important goup of italian migrant women in Fremantle that would change her life and play a big part in her learning.
Through this passion and learning of these old songs ,she founded two significant italian womens community choirs,"The Joys Of the Women" in Fremantle WA in 1989 which was documented in the 1993 award winning documentary film by Franco Di Chiera .In 1993 she left Fremantle for Melbourne and in 1995 founded La Voce Della Luna directing them til 2013. .She was awarded the "Italia nel Mondo "Award in 2000 in recognition of her contribution towards the promotion of italian culture in Australia through forming of the womens choirs.
Encouraged by the demand for an italian folk cd by her fans, Kavisha has finally made Riturnella- 13 songs of Love and Betrayal from the 1400s to the 1900s. This intimate album continues in the tradition of the italian cantautori (singersongwriters) who have paid respects to thier roots by going back to the italian folk tradition and recording fresh interpretations.This has been released independantly in March 2014. The cd is available on this site or through Readings Books and Music in Melbourne.
The 13 songs of Love and Betrayal are;
1.*Fammi Restari,(Sicily1600s)(Youtube version)
2.Sento Il Fischio(Piedmont 1930s)
3.Riturnella (Calabria 1800s)
4.Nova Gelosia (Campania 1700s)
5.Scura Maie(Abbruzzi1800)
6.E tra Lla Lleru(Sicily 1800s)
7.Ricciulina(Campania 1600s)
8.Vulumbrella(Campania1400s)
9.Mi Votu Mi Rivotu(Sicily1800s)
10.Maremma Amara(Toscana1800s)
11.Angellare`(Campania1700s)
12.L'America (Puglia 1800s)
13.Vurria Addeventare (Puglia1600s)
Aria award winner, songbird and folkloric explorer Kavisha's original song's lyrical ingredients include humour, poetry, social justice and the spiritual. Combine this prowess with the voice of an angel and you have the experience of a Kavisha concert. Singing in English , Italian and other languages, she will take you on an uplifting boundary riding journey of well-crafted stories and songs ringing with echoes of Celtic, Fado and Gypsy influences that will strike a resounding chord within.
Passioniate about social justice,she was awarded an Order Of Australia in 2011 for her services to singing songwriting and reflecting the experiences of aboriginal,refugee and multicultural communities through her performances.Based in Melbourne, Australia,she continues to perform her original songs and share her love of italian folk music at numerous national and international music and arts festivals .
---
WHAT THE PRESS SAY
"Mazzella's voice has a wonderful purity of tone and can lift over a melodic line with bell-like, weightless grace." Jessica Nichols -The Age
"She sings with the voice of a heartbroken angel"Victoria Laurie -The Australian
"Her songs have a great sense of melody and lyrical depth.." Jim Lee, Dirty Linen Magazine. UK
"Irrestistable,heartfelt collection of beautifully produced songs" Robyn Johnston , ABC Radio National on " Love and Sorrow"
"Fabulous album, sophisticated, aromatic, beautiful, soulful, moody." Matthew Donlevy ,Peermusic on " Love and Sorrow"
"Kavisha herself is in as fine a form as ever, delivering her superb mixture of homespun stories and traditional gems. Her voice is shimmering and effortless - she has the remarkable ability to throw her voice at a microphone from a metre away, almost like a ventriloquist, then move right in for the kill." Mike Moroney, Edinborugh Folk Club, Dunedin NZ
"Her voice flows like tears of joy and sorrow.There's a saltiness and warmth of sensuality here that sings the great bitter sweet song of life. Kavisha Mazzella may have the first and last letters of the alphabet in her name but in truth, there's a power and presence in her stage performance which is simply beyond words." Colum Sands - "Rootin'About" for RTE Radio in Dublin. Folkclub BBC Radio Ulster
"Clear and beautiful vocals" Bruce Elder - Sydney Morning Herald
"Kavisha ha collaborato e collabora con numerosi artisti australiani e internazionali. La sua musica originale contiene echi di folclore italiano, influenze celtiche e gitane, la sua voce calda e appassionata trasmette emozioni che toccano il cuore. La sua energia e amore per la musica sono contagiosi" (Gabriella Gomersall Hubbard- Il GLOBO)
"Kavisha has collaborated and collaborates with numerous australian and international artists.Her original music contains echoes of italian ,celtic and gypsy folklore, her warm voice and passion transmits emotions that touch the heart.Her energy and love for music is contagious."Gabriella Gomersall Hubbard- Il GLOBO
---
Kavisha's Music is now on
---
COLLABORATIONS....
ITALIAN GIRLS ON MOPEDS with Andy White & La Voce Della Luna
BELLA CIAO di Risaia with I Viaggiatori
VA PENSIERO with La Voce Della Luna
LOVE and JUSTICE Women's Anthem with VICTORIAN WOMEN'S TRUST CHOIR
Malay Aust Raft project- Australian Artist A .Pelchen & Dutch performer F.Van De Ven
With Franco Di Chiera in film "The Joys Of The Women"
With Rich'n'Famous ( live at Port Fairy Folk Festival )