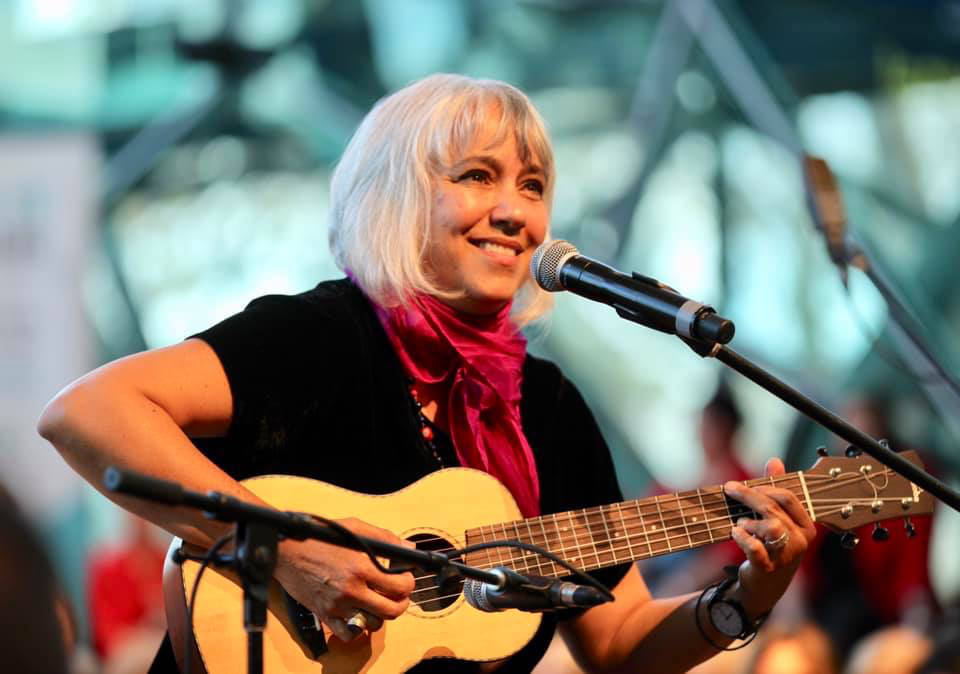 KAVISHA MAZZELLA AM            photo © Matthew Jones  2019

Aria award winner, songbird and folkloric explorer Kavisha's original song's lyrical ingredients include humour, poetry, social justice and the spiritual. Combine this prowess with the voice of an angel and you have the experience of a Kavisha concert. Singing in English , Italian and other languages, she will take you on an uplifting boundary riding journey of well-crafted  stories and songs ringing with echoes of Celtic, Fado and Gypsy influences that will strike a resounding chord within.
GIGS and Choir workshops  AT A GLANCE
2020 dates
Sunday 16th Feb 10-4pm  SINGING OUR WAY HOME
Healing voice and meditation workshop (introductory workshop)
Kavisha and Sydel Wienstien  the Home of Yoga Mosman Park Perth WA
  Kavisha in VICTORIA MARCH 2020
 WED March 4th  26 Bowden St Castlemaine VOLARE Italian folk song workshop -all welcome
10am-12 middiay $25/$20/bring a plate to share

learn a beautiful italian folk song in 3 part harmony and share food afterwards
Phone Kavisha 0412893355 to book your place

Thursday 5th March 10 am
International Womens day OPen Mic fundraiser for fire injured Wildlife -THEATRE ROYAL Hargreaves St
with  Felicity Cripps ,Maggie Jackson. Trudy Edgley, Cate Mercer , Kavisha and others .
Thursday 5th March 8pm

Kavisha and Friends (band) @TAPROOM Shedshaker Castlemaine VIC
Kavisha's original songs and stories
Mar 11th-15th TARANTA FESTIVAL MELBOURNE VIC.
a Taste of Southern Italy with authentic dance and vocal workshops
 March 11-15 2020  Taranta Festival ITALIAN FOLK MUSIC FESTIVAL _
Healing and Trance in ancient songs .CHOIR workshops and performance
VARIOUS places Darebin Arts Centre, COASIT in Faraday St Carlton
Kavisha will be running a daily choir that will perform at the final concert of the festival with the band !
7.30pm Mar 11-15   at COASIT  MELBOURNE VIC all welcome
Taranta Festival ITALIAN FOLK MUSIC FESTIVAL
Thursday MAR 18th Kavisha with Mihirangi BOITE WORLD MUSIC CAFE
All Nations Church Carlton
 March 20 -21st 2020  CHOIR and performance  at Lake Bolac Eel Festival VIC
APRIL 16th Kavisha in Writers Block CLANCY"S FISH PUB Fremantle WA
CANTIAMO  Singing Adventure in SICILY  May 1st -May 14th 2020 ( Full  hOUse )
  Cultural Immersion through song, history, slow food and wine. 
 CANTIAMO  SINGING Adventure  IN  TUSCANY   May 25th - JUNE 6th  2020 ( Full HOuse )
  Cultural Immersion through song, history, slow food and wine. 
ENQUIRE HERE for 2021 
CDS FOR SALE
Currently recording EMPTY SKY ; Mystic Poetry and chants CD due for release  2020

The Fearless Note (2017) 
Riturnella (2014 ) Italian folksongs of 600 years
Love and Sorrow(  2010 )
Silver Hook Tango ( 2003)
Fisherman's Daughter (1998) Sorry Not available due to shed fire  
Mermaids In The WEll (1995) Sorry Not available due to shed fire 
ORDER your CDS below Folks on BUY NOW BUTTON Thankyou
 Some songs of Kavisha on Youtube .
SING FOR NO ONE from The Fearless Note 2017
THE FEARLESS NOTE from The Fearless Note 2017
INVISIBLE INDIVISIBLE from Mermaids In The Well 1995
WE ARE ANGELS from Mermaids In The Well1995
VULUMBRELLA from Mermaids In The Well 1995
WEDDING SHEETS from Suitcase Serenata 2010
SHE MOVES THROUGH THE FAIR from Mermaids In The Well 1995
FISHERMAN'S DAUGHTER from Fisherman's Daughter 1998
ROSE IN THE BONES from Silver Hook Tango 2003
VENEZUELA from Silver Hook Tango 2003
KINDNESS OF STRANGERS Xmas Carol 2016
ALL GODS BEGGARS from Silver Hook Tango 2003
AMOUR live on Digital Pill
BELLA CIAO di Risaia with I Viaggiatori
VA PENSIERO with La Voce Della Luna
LOVE and JUSTICE Choir Women's Anthem with VICTORIAN WOMEN'S TRUST CHOIR