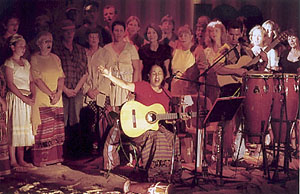 Kavisha with the Viva Timor choir in Festival of Perth 2000 in Mavis Goes To Timor
JOIN US in " The Moon's a Balloon "
We are looking for new members!
in 2011 the Mental Illness Fellowship Victoria now WEllways asked Kavisha to run a carers choir for 10 weeks. 12 singers joined up and had a ball resulting in a "Show and Tell "concert at the Athol Gill Centre @ Saint Marks Baptist Church 100 Hodgkinson St Clifton Hill. The group was named "The Moon's a Balloon".It was so successful that it is now a permanant choir and the Athol Gill centre has become is home .
Who is in it? Friends, carers, family members - especially if your lives have been touched by mental illness. Our choir meets in school term times on Tuesdays at 7.45pm in Saint Marks Baptist Church, 100 Hodgkinson St, Clifton Hill. The fee is a gold coin. We sing songs that are meaningful, fun and we also do relaxation exercises and share food afterwards.
To enquire call Wellways on (03) 8486 4200 ALL WELCOME no experience necessary.